MyVetLink provides 24/7 access to your animals' records via a secure portal, including GVL health certificates (CVIs), EIA "Coggins" tests, rabies vaccination certificates, and much more.
MyVetLink allows your veterinarian to get movement documents, test certificates, and results to you faster than ever.
We've compiled everything you need to know about your MyVetLink login in this quick Go-To Guide!
---
Get Started with MyVetLink
How Do I Access My Account?
To join MyVetLink as an animal owner or agent, ask your GlobalVetLink veterinarian to grant you access using your email address.
Once your veterinarian grants you access, you can create your MyVetLink login and complete the signup process. See full instructions in our Help Center.
Where Can You Find GVL Health Certificates?
The Certificates tab on the left side shows a list of all certificates that have been created for your animals. Click the purple Certificate Number or Download under the Actions column to download a copy of the certificate.
How To Find Your Animal Information?
The Animals tab on the left side shows a list of all animal profiles that have been created for you by your veterinarian. You can click the animal's name to view its information and download any current certificates. Agents, like trainers or boarding facilities, can also be linked to your animal from this view.
What is the difference between an Agent and Owner MyVetLink account?
Owner MyVetLink Account
Owner accounts are best for those who only need access to animals listed under their ownership.
Owners access certificates once their vet clinic adds their email and grants MyVetLink access.

Owner accounts can only see animals associated with their contact at the veterinary clinic.

Owners can access EECVIs (Extended Equine 6-Month Certificates) and create permits if an EECVI is issued for their horse.
Agent MyVetLink Account
Agent accounts are best for those who need access to documents for animals that they do not own. For example, trainers, boarding facilities, and animal transporters can utilize MVL agent accounts for document access. 
An Agent account must be "Linked as an Agent" to any animal profile they need access to by the veterinary clinic, including their own. 

Agent accounts do not have access to EECVIs (Extended Equine 6-Month Certificates).
What is an EECVI?
An EECVI is an Extended Equine Certificate of Veterinary Inspection.
GlobalVetLink developed EECVIs to support the states that offer six-month health certificates with a digital solution. Through the GVL portal, veterinarians can create an EECVI online, submit it to their state animal health official electronically and provide owners with online access to create their travel permits 24/7.
Learn more about the EECVI here!
How To Find/Create Permits
After logging into MyVetLink, click on Certificates in the left-hand menu. Here you will see the recent certificates that your veterinarian has completed for you. To view your EECVIs only, click the Show EECVIs only button at the top of the screen.
To create your movement permit, click the Certificate number and select Create a permit. 

Enter the Movement Info, Origin, and Destination, and click Finish Permit.

After clicking Finish Permit, you will be prompted to Commit the permit. By doing so, you verify that your horse is healthy, that you will travel with your permit and official ID information, and that you have been made aware of any travel restrictions. If true, click Commit.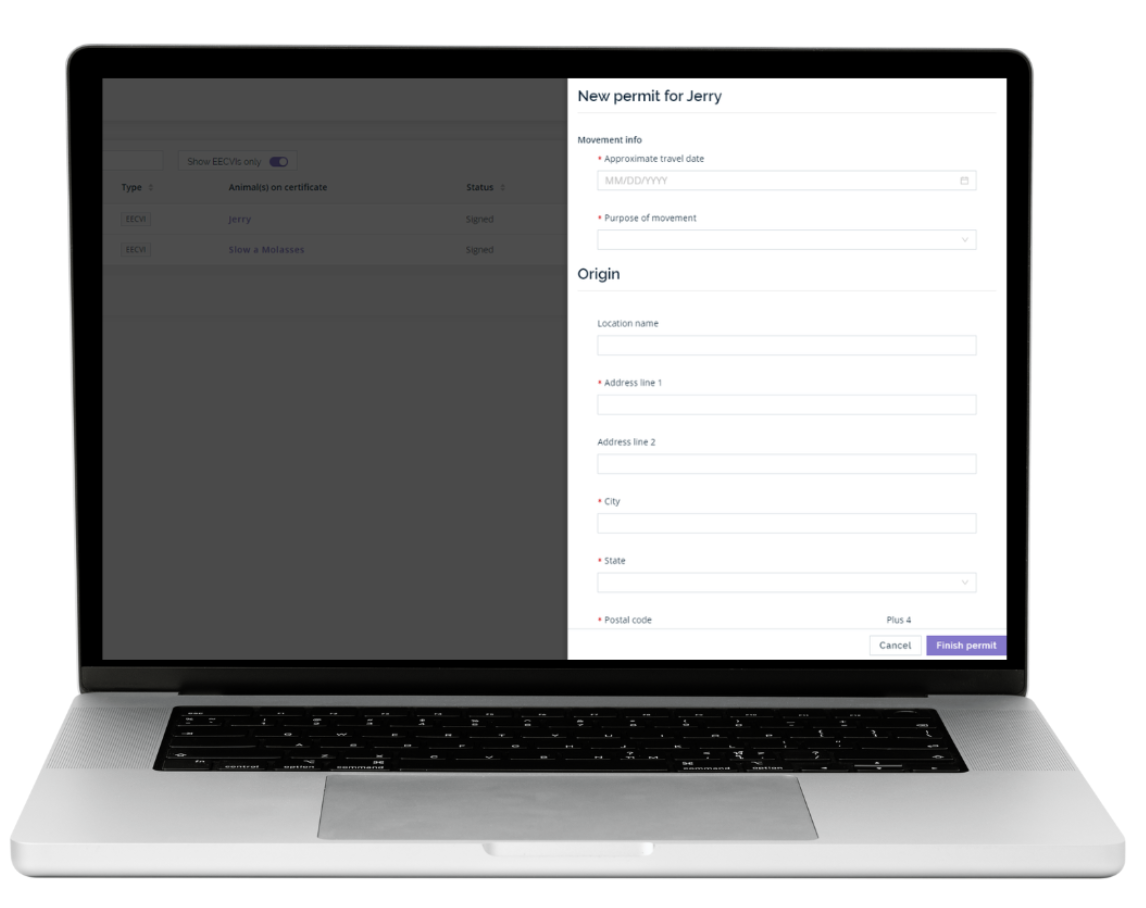 4. Once you have committed your permit, you can download and print it by clicking on the certificate number and locating the permit under Travel Permits.
Check out this training video that walks you through the entire EECVI permit creation process!
Where To Access The Help Center
The MyVetLink help center is always available to you within your account. Access the help center by selecting the Help dropdown menu on your left-hand navigation bar. Once the option in the dropdown appears, click help articles.  
You can also visit the help center anytime to access GlobalVetLink customer service by going to: help.myvetlink.com
Training Videos
GlobalVetLink has created training videos that help guide you through the MyVetLink platform. These videos are always available within the MyVetLink help center. Check them out here!
Animal Transport Requirements
State animal health departments have their own rules and requirements for traveling with or transporting animals to and from their state.
The AnimalRegs.com search site, built by GlobalVetLink, provides the current regulations and requirements for moving any animal species within, to, or from a state.
FlyWithMyPet.com
This website is guaranteed to simplify the process for international travel with pets!
FlyWithMyPet.com's simple information collector allows you to enter your travel information. Once entered, the website will provide a list of pet travel requirements, including the documents your pet needs to travel with you.
Find-A-Vet
GlobalVetLink's Find-A-Vet feature allows animal owners to quickly find a veterinarian in their area who offers digital services such as Certificates of Veterinary Inspection (CVIs/health certificates), Equine Infectious Anemia (EIA/Coggins) certificates, and much more. 
Enter your zip code to find a GlobalVetLink veterinarian closest to you.