GVL MyVetLink Owner Account and App
Animal health information is always within reach with MyVetLink
Keeping veterinarians and clients connected
Access health certificates, EIA tests and other animal records anytime from anywhere
Quickly request service from your veterinarian
Easily search interstate movement requirements for compliant travel
To join MyVetLink as an animal owner or agent (trainer, stable owner, transporter, show official, etc.), ask your GVL veterinarian to grant you access using your email address.
Download the MyVetLink App
If you have an active MyVetLink account, download the app and get started today. Or, ask your veterinarian to grant you MyVetLink access (you will need to provide your email address).
Available in the App Store and on Google Play.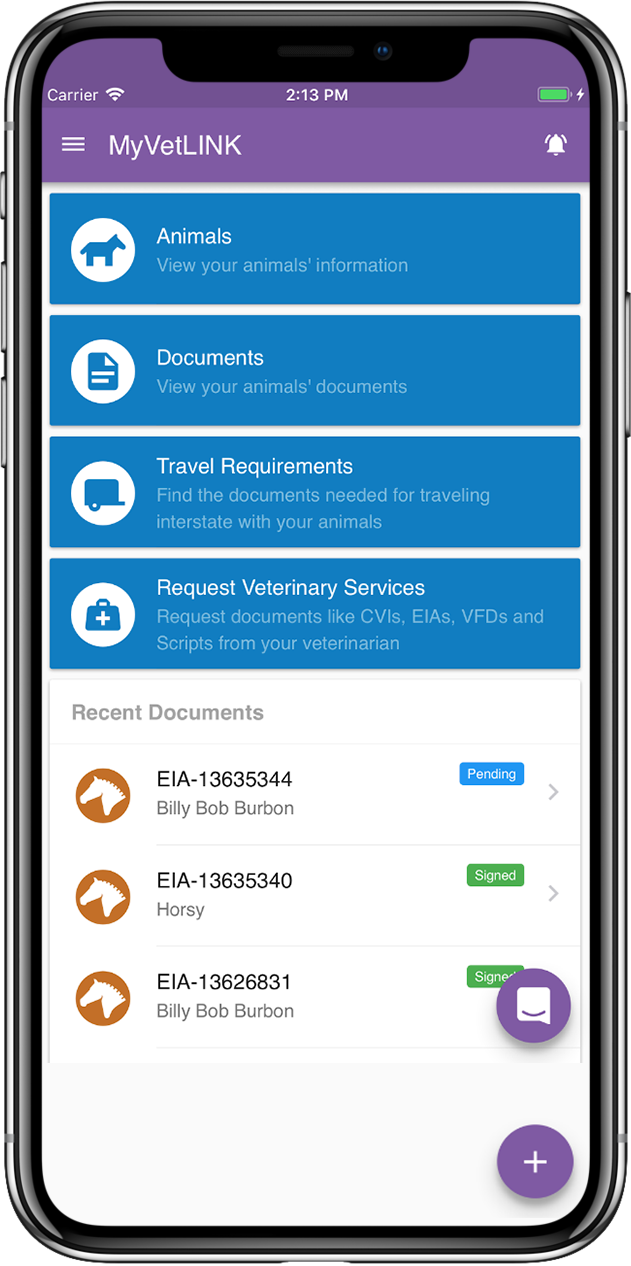 Questions? We're here to help
Explore the GVL help center for MyVetLink instructions, training and FAQs.
(Note there is a MyVetLink help section for owners / agents and a section for veterinarians / staff.)
The GVL Customer Success Team is available every day from 7:00 a.m. to 7:00 p.m. (Central Time) via chat, phone or email.
Call 515-817-5704
Email gvlsupport@globalvetlink.com
See how a MyVetLink animal owner account works
Animal Movement Requirements
State animal health departments have their own rules and requirements for traveling with or transporting animals to and from their state. The AnimalRegs.com search site, built by GVL, provides the current regulations and requirements for moving any animal species within, to or from a state.
GVL Features and Services
Changes in Small Animal Movement Documents
What veterinarians should know about APHIS 7001 forms and health certificates
5 Resources You Need for Travel with Pets
Help ensure your clients' travel plans go smoothly by making sure you know all of these tips 
Vesicular Stomatitis Affects State Rules
VSV is a reportable disease and affects regulations and interstate movement of animals